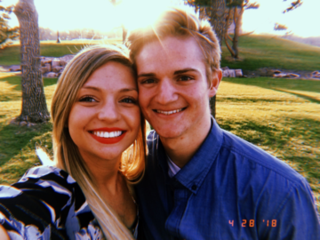 Greetings brothers and sisters,
Praise God for the work he is doing in and through your support! Ahna and I are looking back on November without knowing where it went!
November 2-4: We started out by being in the Platte area leading worship for a Sioux Falls youth group at New Hope Christian Camp & Retreat Center. The end of that weekend, Ahna and I were beyond blessed to come see you at The Lighthouse and sing a special number for you all and talk, well mostly cry, about how grateful we are for you all!
November 5: We ordered about 900 gospel tracts (3 different kinds) from Living Waters Ministries after being convicted as a couple that we were in a rut of only ministering on Wednesday's at an event! Clearly not being led by the Spirit in every area of our lives if we aren't telling someone about Jesus almost every single day!
November 6-8: After we got home, we packed our bags and headed off to Imperial, NE for an event. The enemy hates what we do so much, and it was shown through this event in two major ways. Even though I, Alex, had been talking with the administration for many months prior to the event and explained to them the potential threats they would get, mainly from the FFRF, we arrived to them telling us that unless we signed a contract they had made up, we couldn't do the event. The principal was very fearful, but we were able to work it out and do the event as planned. Then when we left, we got a call from our primary church sponsor, Pastor Matt, and he told us that a local lady who was also the cross country coach was furious that we were there. She couldn't do anything about us being a Christian ministry because our assembly is 100% appropriate for a public school, so she found out that they hadn't had us fill out a facility use agreement and was trying to get someone fired! She was, as he put it, "not going to let up until she gets a chunk of flesh out of somebody." What a clear demonstration of the power the gospel of Jesus has that it drives people crazy when they choose to not follow Christ.
November 9-11: We got back from Imperial and threw the dirty clothes out of our suitcase and through in some fresh ones and hit the road to Madison, SD to lead worship for the Platte Youth Group! It was Ahna, Aaron (the drummer for Chye), Matt (the lead singer for Chye), and myself. This weekend was a huge growing experience for both Ahna and me. In leading worship we truly want people to glorify God and give Him their highest praise, but the Platte youth group has always been very quiet and does not move at all while worshipping. So as we started out the weekend that's how it was, but on the second day during the second session God moved. The worship really seemed to hit these kids hearts and they weren't just words anymore. On the last session that day, we had a mosh pit up front with people jumping and singing and worshipping! It was great! Ahna and I also were able to take 90 minutes on the second day to have everyone write down questions they had concerning dating, sex, drinking, partying, what it's like to be married, etc. and we answered those questions using the Word of God. We had many mentors say that our answers made a lot of the students come back to small groups and say they were changing things in their lives.
November 12: Alex woke up this morning and his lymph nodes on his right side next to his ear and neck were extremely swollen. But he felt fine and wouldn't go into the doctor.
November 13-15: Again we threw out the old clothes and packed in the new! This week we were off to Gettysburg, SD! When we stopped on our way up to Gettysburg, with our new tracts in hand, Ahna and I made sure everyone in that Subway had a tract before they left! It was so much fun! It took a lot of courage for us to get going, but together and by the grace of God, we were able to break that wall and tell people about Jesus! It's crazy how many opportunities we pass up everyday to tell people the Good News! When we arrived in Gettysburg, we had an incredible event. There was only one church that had sponsored us to come in, but incredible ministry happened during both the day and evening events! Also, our host families had some of the biggest houses on this earth! One house, we didn't stay at it, had an elevator that just went to one room! On the way home, however, I (Alex) got worse and worse. My head started pounding in pain and my face was swelling on the right side. However, we were able to witness to a few other people at the Subway in Winner, SD and Ahna had an interesting encounter with a table of 4 older ladies. Let's just say they were not thrilled that she was talking to them about Jesus! But Praise God for that! We just hope that some seeds were planted in her faithfulness.
November 16: I, Alex, had the worst sleep I can ever remember having. Had terrible body aches and couldn't lay in one position for more than 20 seconds. I woke up and the fever had broke so I went to work but then my headache won me over at about 4 PM to go into the doctor. We got in and they drew blood just to make sure it wasn't anything worse than they thought. We got the results back and everything looked normal so we found out that it was just a virus that was causing all of the symptoms from fever, headaches, muscles aches, to a swollen face and lymph nodes.
November 22-25: After working in the office that week, Ahna and I were blessed to come back to South Dakota to see family and get some much needed rest. After a wonderful time celebrating with the Timmermans, Vander Pols, and Kuypers we headed to Platte to see the Daum family! We also led worship that Sunday in Platte and sang a special number as well. We then headed back to Kearney.
November 27-29: We quick did some laundry on Monday and then headed out to Burlington, CO! This event was crazy! Literally. We had 7 schools come together to put this event on, totally around 500 students all together. The enemy again was at work through the Freedom From Religion Foundation and one of schools backed out (would've been school #8), even though they have had us come to their school twice in the past. It is so sad to see "Christian administrators" caving to the empty threats of the enemy. But wow what a response during the afternoon and evening! In the evening we had about 200 people come back, over half of those being high school students, and they heard the gospel of the Lord Jesus! About 50 students came forward to commit their lives to Jesus Christ! Powerful evening! On the way back from Burlington we stopped at you can guess it, a Subway! J We had our tracts, but nobody was in the Subway. However, when I ordered my sub, a conversation sparked up with the young man making it, Phillip was his name. As we talked, I found out that he was just working a lot because his girlfriend was pregnant so he needed to make money. He also told me about how he gave up on religion because the friend he used to go to church with was killed at age 15 in an accident, and he, Phillip, was abused by his dad, and he has also had three different moms in his life and they have all left him. As our conversation progressed, I told him about how we will all stand before God at the end of our lives and be judged. I explained to him about how bad things happen in our lives, not because of God, but because of the devil. John 10:10. I proceeded to explain to him why Jesus had to die and how in order to be forgive we must repent of our sins and surrender our lives fully to Jesus. At the end of our conversation, he thanked me and told me about how it all made sense to him and that he was going to really look into this. I asked if he had a Bible and he said "no", so I was just about to go grab one when Ahna came flying in the door with one! LOL She had heard the conversation start and without me realizing, she had ran about 200 yards to the bus and grabbed a Bible and ran it back! What a wonderful wife I have! We both realized that day as well, that we need to get in better shape so we can run faster to get Bibles in times of need! J
Throughout this month, we have come to know the Truth more and more that God is faithful! It's so humbling to meditate on the fact that the same God who rescued the Israelites from Egypt thousands of years ago is the same God we worship today! The same God who created the universe is the same God who we can have a relationship with through the blood of Jesus! The same God who led the Israelites through the wilderness is the same God we worship today! It's so laughable that we oftentimes think we know better on our own, but it's so awesome to think that someday soon our lives will be over and God is going to keep raising up people to proclaim His Word. Ahna and I just hope and pray that we are found faithful at the end of our lives, and we want to make sure we do it to the best of our ability and at every time possible!
May God bless you all,
Alex & Ahna Daum
Mothers UpliftingMothers
7pm