Friday, September 28 2018
To
The Lighthouse Church, Corsica, SD
Dear Kingdom's Partner
We are extremely grateful for all what God has done and what God is doing in and through our lives this day. Thank you so much for being with us in prayer and support. As the Church is being persecuted in all over the nation, we are more into fasting prayers in the past three months, asking the Lord for strategy on how to reach out to the people. One day The Lord gave us impression that whoever sits with us in fasting with prayer, deliverance will take place. After making known the vision, some family who has demonic and family problems invited us and we prayed with them with fasting and we shared the gospel with them and the Lord answered our humble prayers. This exactly happen with some family. They got deliverance from fear and sickness and they are growing in faith now as we visit from house to house to fellowship and for preaching the gospel. The Church is doing fine and so is the ministry outside the Church. Kindly pray for Mrs Chandani and Mrs Diksha who have expressed their willingness to accept Christ as their Savior and Lord of their lives. Brother Shainto and uncle Bhim are helping me fully in the Church and in the ministry actively.
Finally, pray for protection and provisions of the upcoming ministries
1. Youth Camp from 17-18 October in Guwahati
2. Mission trip to Bomdila/Tawang, China Border from 23-27 October
3. Mission ground work, Thailand from November 18 to December 6, 2018
4. Pray for our new passports application from 1-31 October.
Thanks again for your valuable prayer and support.
In Christ's Love and Mission,
Thang Livingstone and Family
-----------------------------------
A month in life of of a missionary
July 2018
Date Ministries Place
01.07.2018 Sunday worship Killing, Meghalaya
03.07.2018 Participating 2nd death anniversary (of Prakasham) prayer meeting Grace Home, Pillangkata
04.07.2018 Ninth Mile, DC, DTO Office Nongpoh, Meghalaya
06.07.2018 Fasting prayer At Church
07.07.2018 Mission Trip, Preachig, prayers visit, attended Ordination service of Christ public School Mendhi Pathar, North Garo Hills, Meghalaya
08.07.2018 Morning service at Killing Church, evening at Aimol Church attended Vacation Bible School last service Killing, Meghalaya/Pillangkata, Guwahahti
09.07.2018 Attended Landlord's grandson birthday prayer meeting Grace Cottage/Guwahati
13.07.2018 Prayer visit with Ajir Family Pillangkata, Meghalaya
15.07.2018 Sunday Worship Killing. Meghalaya
16.07.2018 Went out to get driving Licence Nongpoh, Meghalaya
17.07.2018 Fasting prayer with Three Pastors At Home
17.07.2018 Prayer meeting at late afternoon Killing, Meghalaya
19.07.2018 Visit sister Preces family for thanksgiving prayer on getting a new auto vehicle Killing, Meghalaya
20.07.2018 North east Pastors meeting Nepalpara, Rowta, BTAD (Assam)
21.07.2018 Saturday evening Prayer meeting Uncle Bhim House
22.07.2018 Preached at Morning worship Killing Church, meghalaya
22.07.2018 Preached at Evening worship ABC, Guwahati
28.07.2018 Saturday evening prayer Bethel Home, Meghalaya
29.07.2018 Sunday worship Killing, Meghalaya
29.07.2018 Evening payer meeting with The Aimol Fellowship At our Home
30.07.2018 Fasting prayers for Thailand Mission At Home
31.07.2018 Fasting Prayers for August activities/Mission At Home
August 2018
Date Ministries Place
01.08.2018 The whole day spent in prayer and studying/hearing God's message and later evening went out for a Visit and prayers (1) Bhim Family, (2) Ajir Family Guwahati/Pillangkata Meghalaya
04.08.2018 Preached at Saturday evening prayers @Cave of Adhulam, the Ds armies of David Pillangkata, Meghalaya
5-11.08.2018 Fasting prayers At Home
12.08.2018 Preaching at two fellowships Maikhuli/Killing. Meghalaya
15.08.2018 Small campaign Outside the city
18.08.2018 Saturday prayers meeting Bethel Home
20.09.2018 Home fellowship/discipleship At home
25.08.2018 Saturday prayer meeting Pillangkata, Meghalaya
29.08.2018 Special prayer for house sanctification as children are sick most of the time Bro Ajir House/ Pillangkata
31.08.2018 Fasting prayer at Home and visited two families afternoon for prayers Pillangkata/Meghalaya
September 2018
Date Ministries Place
01.09.2018 Saturday prayer meeting Pillangakata
02.09.2018 Sunday worship/preaching Killing/Meghalaya
05.09.2018 Two hours chain prayers for Guwahati city and the upcoming parliamentary election Aimol Baptist Church
07.09.2018 Fasting prayers at Main Church
07.09.2018 Gospel sharing house to house @ Chandani and Diksha Killing, Meghakaya
08.09.2018 Attended one day introduction seminar of Sustainable medical mission Pillangkata
08.09.2018 Prayer meeting at night 7 pm At Boragaon, Guwahati
13.09.2018 Family Fasting prayer for all needsand upcoming ministries At Home
14.09.2018 Fasting prayer with Ajir and Family for deliverance from sickness and demonic presence in their house KK Aimol Home
15.08.2018 Fasting prayer with bro Angam who lost his job last year or restoration and for a new job Stanly Appartments
16.09.2018 Sunday worship service Killing Church, Meghalaya
21.09.2018 Fasting prayers with Som and family At Killing some house
22.09.2018 Fasting prayer continue with our entire family with children for Thailand mission At our family
23.09.2018 Sunday worship morning At Killing
23.09.2018 Sunday worship evening At Aimol Baptist Church, Guwahati
28.09.2018 Fasting prayer with others local leaders Pillangkata, Meghalaya
29.09.2018 Sharing the word Bethel House Fellowship
30.09.2018 Tentative: The Lord's supper Killing Church
Monday, September 24 2018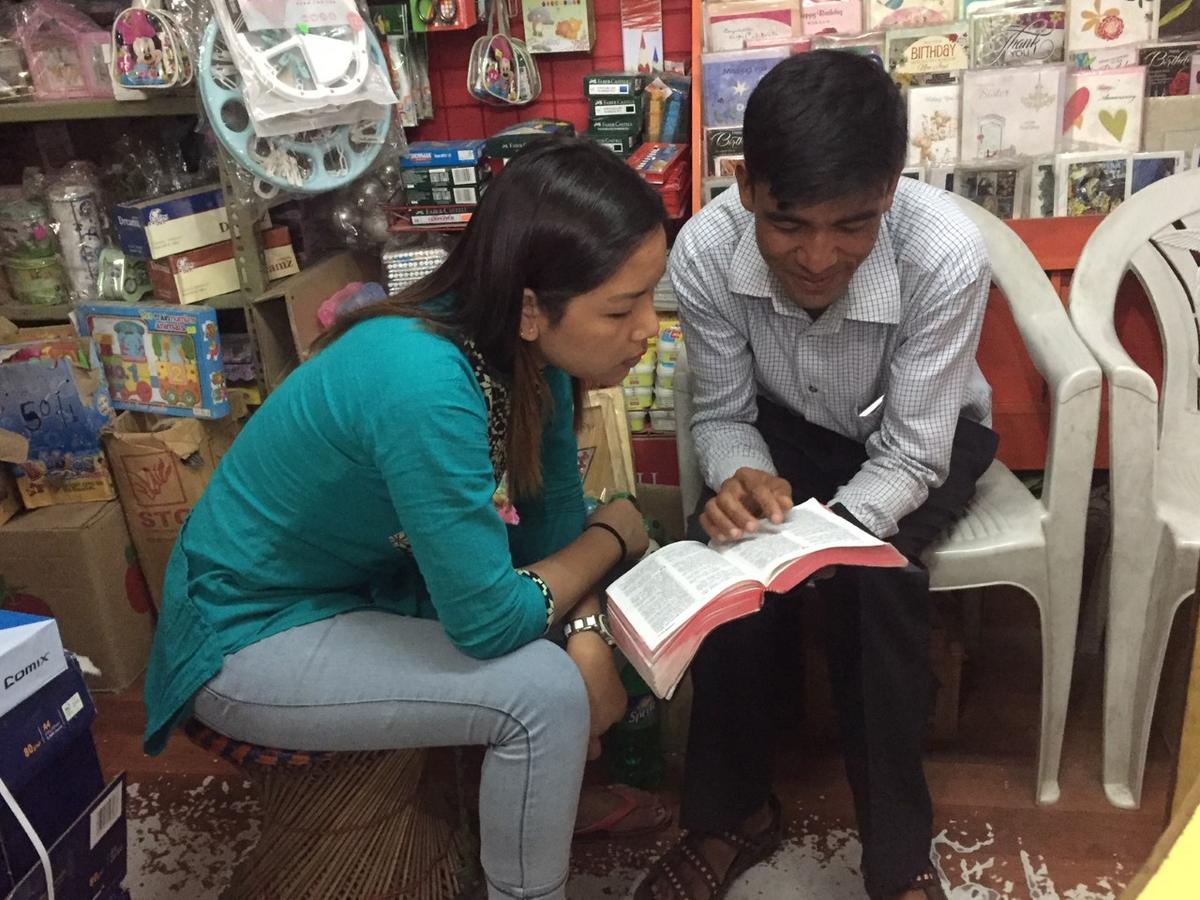 Dear Praying friends and families

Greetings from Himalayas in the Name of its Maker!

We would like to request you to pray for our trip to the mountains. My friend and I are leaving in 6 hours to the midwestern nepal. We will have to drive for two days and hike up to the snow level for two days just to get to Barekot village in Jajarkot district. Six boxes of literature ie 4000 pieces are loaded in the car. Please pray for travel mercy, boldness and fruitful ministry.

We will be teaching for two days to the pastors and the students in a short discipleship training. We are excited to go to the real ends of the earth with the Gospel. Please pray with us that the Lord provides for the trip and His will be done!

Thank you very much for your continuous prayers.

Yours In Him
BK

Ps. Please pray for Sister Asha. She heard the gospel from us few years ago when she came to Kathmandu from her Village for higher studies. She worked for us in our book store for two years and she attended our church even though her orthodox Buddhist family strictly prohibited. Now she knows the truth and bough her Bible, and ready to go to Japan for higher study. In the picture Brother Hem is sharing with her from the Bible. Her husband is not happy about her faith, neither her father in law who is a Buddhist monk and has a huge monastery in his own house in the village. Please pray for Asha that she finds a Biblical Church in Japan. Thank you very much.
Mothers UpliftingMothers
7pm